Educational Links
Air Force Institute of Technology - I received my Master of Science degree from AFIT in Contracting and Acquisition Management. There are many programs in engineering and logistics management, both in-residence and under the civilian institution program.
Oregon State University - I attended OSU on an ROTC Scholarship and received degrees in Engineering and Business. The engineering school is one of the best in the country and graduates of the engineering school founded CH2MHill, one of the country's top engineering firms, over 50 years ago.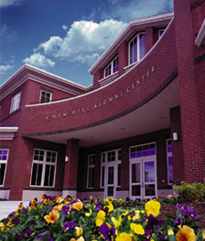 OSU Alumni Association - The OSU alumni group, with the help of CH2MHill, and their CEO, Ralph Peterson, built a beautiful alumni center on the Corvallis campus. Be sure and visit if you are in the area!
Colorado graduates of OSU who are interested in the Rocky Mountain OSU Alumni Association should contact Janice Lentsch (Janice.Lentsch@orst.edu) or me (RScott@cyberdude.com) for further information.
The Office of Personnel Management - Management Development Centers
I have occasionally taught guest lectures at the Western Management Development Center located in Aurora, Colorado. This is a management school for federal executives from many different agencies which allows for a mutual sharing of ideas between people with diverse backgrounds. The existence of these schools, there is one on the east coast also, is all but a secret! Follow the link above to learn more about them and who to contact.

Air Force Systems Acquisition School - This school was founded in the earlier 1980's by the Commander of Air Force Systems Command. He wanted a school to teach the command's program management techniques to officers and senior civilians coming into the command. I taught there for a little over two years before returning to Colorado.